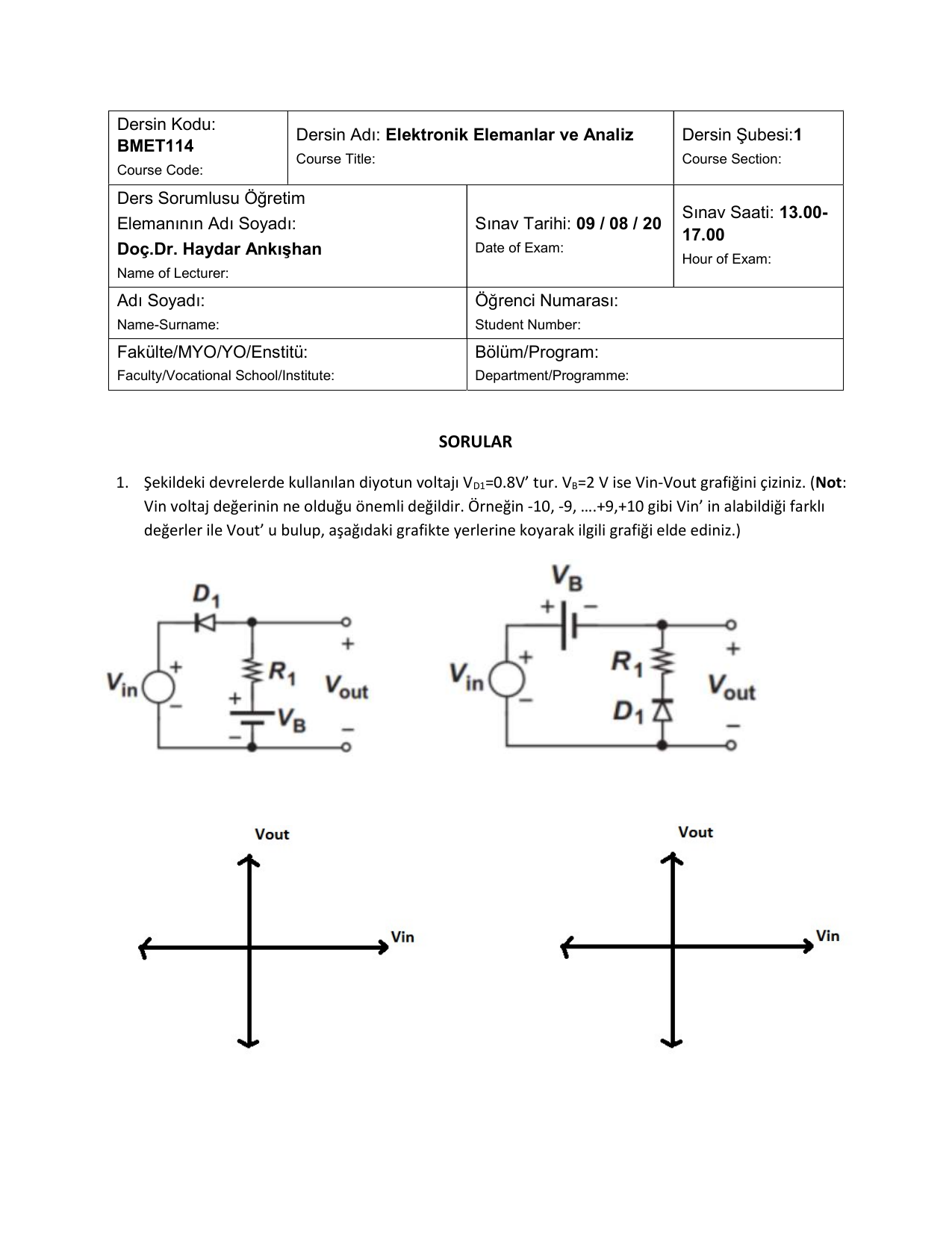 Dersin Kodu:
BMET114
Course Code:
Dersin Adı: Elektronik Elemanlar ve Analiz
Dersin Şubesi:1
Course Title:
Course Section:
Ders Sorumlusu Öğretim
Elemanının Adı Soyadı:
Doç.Dr. Haydar Ankışhan
Sınav Tarihi: 09 / 08 / 20
Date of Exam:
Name of Lecturer:
Adı Soyadı:
Öğrenci Numarası:
Name-Surname:
Student Number:
Fakülte/MYO/YO/Enstitü:
Bölüm/Program:
Faculty/Vocational School/Institute:
Department/Programme:
Sınav Saati: 13.0017.00
Hour of Exam:
SORULAR
1. Şekildeki devrelerde kullanılan diyotun voltajı VD1=0.8V' tur. VB=2 V ise Vin-Vout grafiğini çiziniz. (Not:
Vin voltaj değerinin ne olduğu önemli değildir. Örneğin -10, -9, ….+9,+10 gibi Vin' in alabildiği farklı
değerler ile Vout' u bulup, aşağıdaki grafikte yerlerine koyarak ilgili grafiği elde ediniz.)
2. Şekildeki devrede İx akımını bulunuz.
3.
Şekildeki devrede V1, V2 ve ix değerlerini hesaplayınız
NOT: Bütün öğrencilere başarılar dilerim.