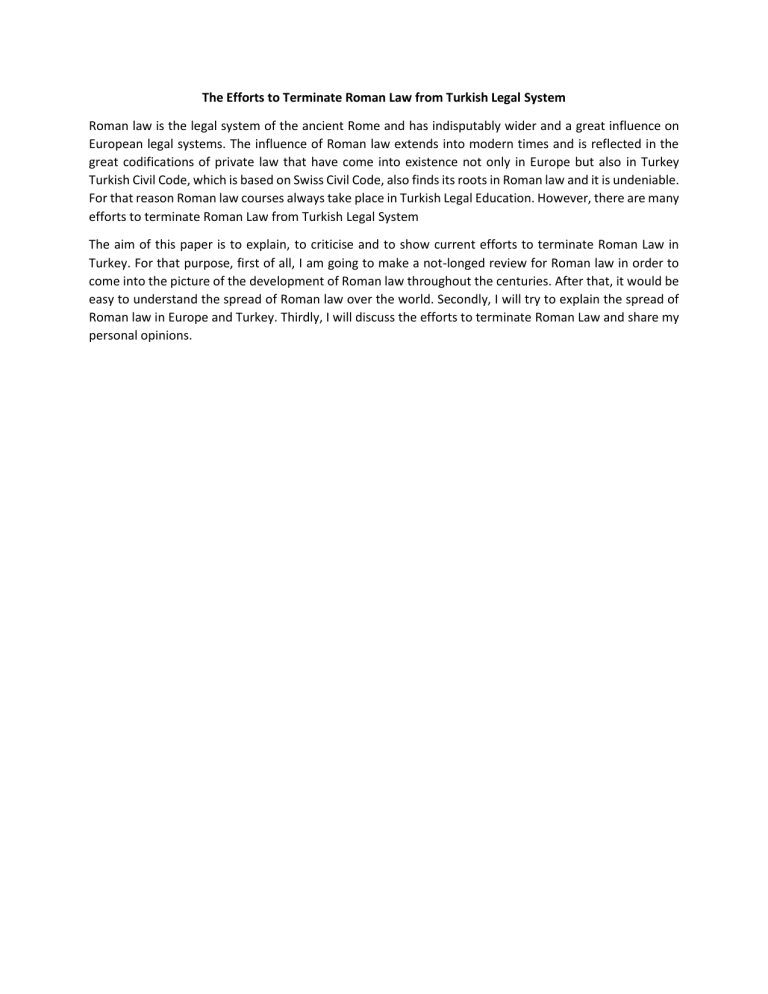 The Efforts to Terminate Roman Law from Turkish Legal System
Roman law is the legal system of the ancient Rome and has indisputably wider and a great influence on
European legal systems. The influence of Roman law extends into modern times and is reflected in the
great codifications of private law that have come into existence not only in Europe but also in Turkey
Turkish Civil Code, which is based on Swiss Civil Code, also finds its roots in Roman law and it is undeniable.
For that reason Roman law courses always take place in Turkish Legal Education. However, there are many
efforts to terminate Roman Law from Turkish Legal System
The aim of this paper is to explain, to criticise and to show current efforts to terminate Roman Law in
Turkey. For that purpose, first of all, I am going to make a not-longed review for Roman law in order to
come into the picture of the development of Roman law throughout the centuries. After that, it would be
easy to understand the spread of Roman law over the world. Secondly, I will try to explain the spread of
Roman law in Europe and Turkey. Thirdly, I will discuss the efforts to terminate Roman Law and share my
personal opinions.
Roma Hukukunu Türk Hukuk Sisteminden Kaldırma Çabaları
Roma hukuku eski Roma'nın hukuk sistemidir ve tartışmasız biçimde Avrupa hukuk sistemleri üzerinde
oldukça geniş ve önemli etkileri bulunmaktadır. Roma hukuku etkisi modern çağa kadar uzanmakta ve
sadece AVrupa'da özel hukuk kodifikasyonlarında değil, Türkiye'de de İsviçre Medeni Kanunu'na dayanan
Türk Medeni Kanunu üzerinde de yansımaları vardır ve bu durum kesinlikle inkar edilemez. Bu nedenle
Türk hukuk eğitiminde Roma hukuku yerini almaktadır. Bununla birlikte Roma hukukunu, Türk hukuk
sisteminden kaldırmaya yönelik çabalar da bulunmaktadır.
Bu metnin amacı Roma hukukunu, Türk hukuk sisteminden kaldırmaya yönelik mevcut çabaları açıklamak,
değerlendirmek ve ortaya koymaktır. Bunun için, ilk olarak Roma hukukunun yüzyıllar boyunca süren
gelişiminin özetini sunacağım. Bundan sonra Roma'nın dünya üzerinde nasıl yayıldığını anlamak kolay
olacaktır. İkinci olarak, Avrupa ve Türkiye'de Roma hukukunun nasıl etki bıraktığını açıklamaya çalışacağım.
Üçüncü olarak, Roma hukukunu ortadan kaldırma çabalarını tartışıp, kişisel görüşlerimi paylaşacağım.