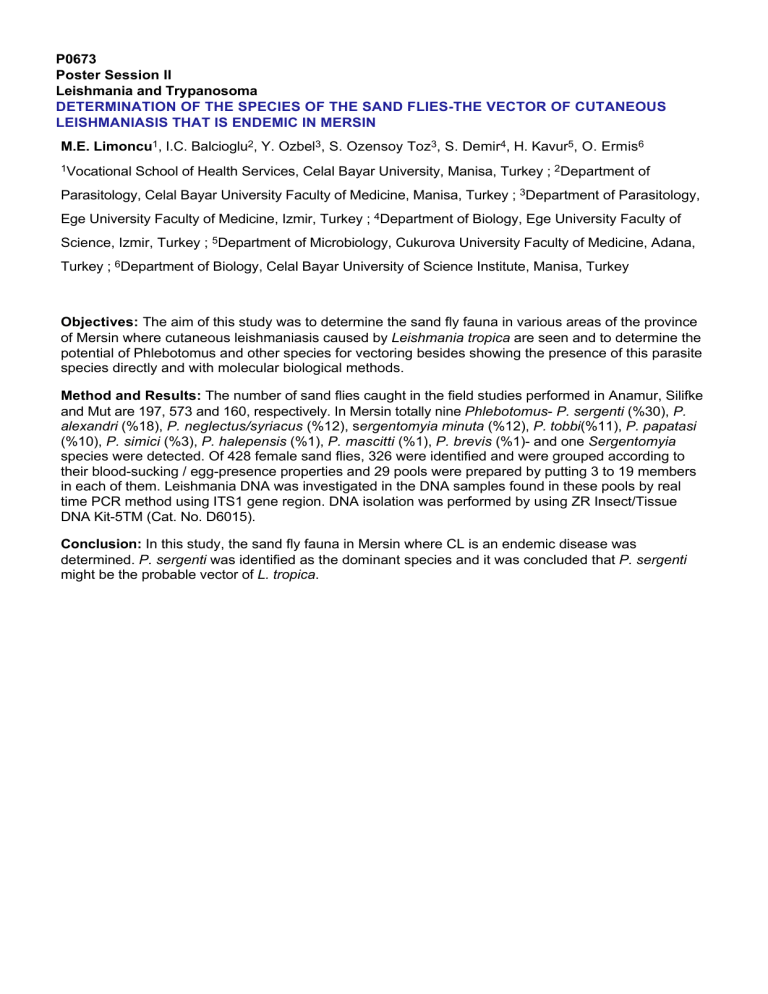 P0673
Poster Session II
Leishmania and Trypanosoma
DETERMINATION OF THE SPECIES OF THE SAND FLIES-THE VECTOR OF CUTANEOUS
LEISHMANIASIS THAT IS ENDEMIC IN MERSIN
M.E. Limoncu1, I.C. Balcioglu2, Y. Ozbel3, S. Ozensoy Toz3, S. Demir4, H. Kavur5, O. Ermis6
1Vocational
School of Health Services, Celal Bayar University, Manisa, Turkey ; 2Department of
Parasitology, Celal Bayar University Faculty of Medicine, Manisa, Turkey ; 3Department of Parasitology,
Ege University Faculty of Medicine, Izmir, Turkey ; 4Department of Biology, Ege University Faculty of
Science, Izmir, Turkey ; 5Department of Microbiology, Cukurova University Faculty of Medicine, Adana,
Turkey ; 6Department of Biology, Celal Bayar University of Science Institute, Manisa, Turkey
Objectives: The aim of this study was to determine the sand fly fauna in various areas of the province
of Mersin where cutaneous leishmaniasis caused by Leishmania tropica are seen and to determine the
potential of Phlebotomus and other species for vectoring besides showing the presence of this parasite
species directly and with molecular biological methods.
Method and Results: The number of sand flies caught in the field studies performed in Anamur, Silifke
and Mut are 197, 573 and 160, respectively. In Mersin totally nine Phlebotomus- P. sergenti (%30), P.
alexandri (%18), P. neglectus/syriacus (%12), sergentomyia minuta (%12), P. tobbi(%11), P. papatasi
(%10), P. simici (%3), P. halepensis (%1), P. mascitti (%1), P. brevis (%1)- and one Sergentomyia
species were detected. Of 428 female sand flies, 326 were identified and were grouped according to
their blood-sucking / egg-presence properties and 29 pools were prepared by putting 3 to 19 members
in each of them. Leishmania DNA was investigated in the DNA samples found in these pools by real
time PCR method using ITS1 gene region. DNA isolation was performed by using ZR Insect/Tissue
DNA Kit-5TM (Cat. No. D6015).
Conclusion: In this study, the sand fly fauna in Mersin where CL is an endemic disease was
determined. P. sergenti was identified as the dominant species and it was concluded that P. sergenti
might be the probable vector of L. tropica.