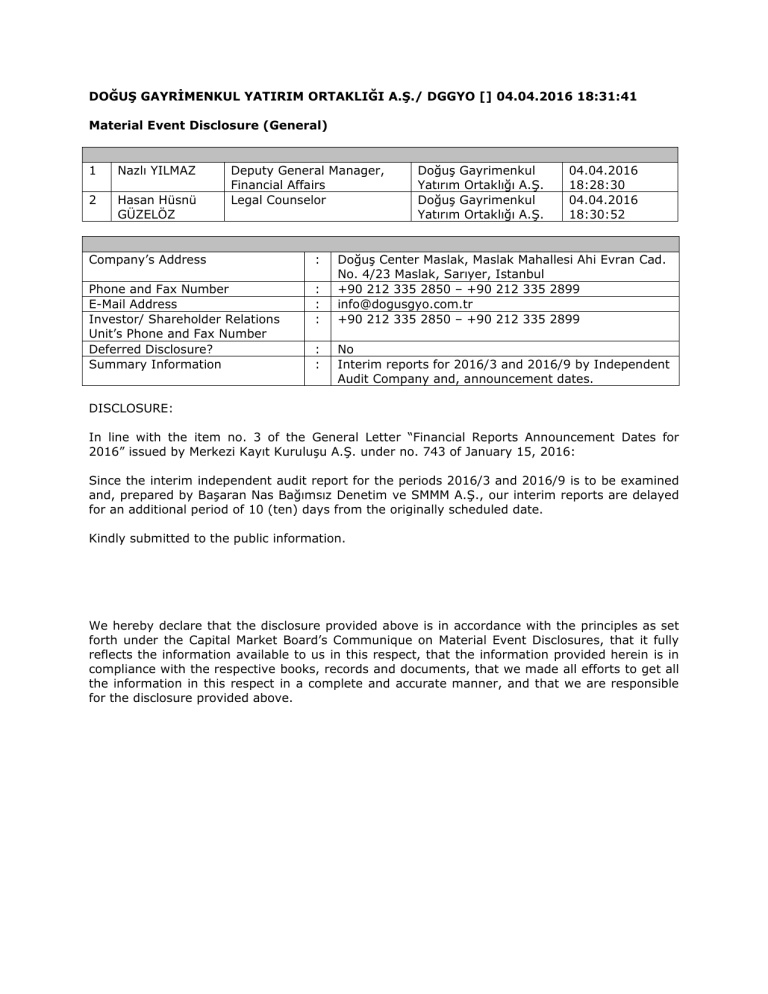 DOĞUŞ GAYRİMENKUL YATIRIM ORTAKLIĞI A.Ş./ DGGYO [] 04.04.2016 18:31:41
Material Event Disclosure (General)
1
Nazlı YILMAZ
2
Hasan Hüsnü
GÜZELÖZ
Deputy General Manager,
Financial Affairs
Legal Counselor
Company's Address
:
Phone and Fax Number
E-Mail Address
Investor/ Shareholder Relations
Unit's Phone and Fax Number
Deferred Disclosure?
Summary Information
:
:
:
:
:
Doğuş Gayrimenkul
Yatırım Ortaklığı A.Ş.
Doğuş Gayrimenkul
Yatırım Ortaklığı A.Ş.
04.04.2016
18:28:30
04.04.2016
18:30:52
Doğuş Center Maslak, Maslak Mahallesi Ahi Evran Cad.
No. 4/23 Maslak, Sarıyer, Istanbul
+90 212 335 2850 – +90 212 335 2899
[email protected]
+90 212 335 2850 – +90 212 335 2899
No
Interim reports for 2016/3 and 2016/9 by Independent
Audit Company and, announcement dates.
DISCLOSURE:
In line with the item no. 3 of the General Letter "Financial Reports Announcement Dates for
2016" issued by Merkezi Kayıt Kuruluşu A.Ş. under no. 743 of January 15, 2016:
Since the interim independent audit report for the periods 2016/3 and 2016/9 is to be examined
and, prepared by Başaran Nas Bağımsız Denetim ve SMMM A.Ş., our interim reports are delayed
for an additional period of 10 (ten) days from the originally scheduled date.
Kindly submitted to the public information.
We hereby declare that the disclosure provided above is in accordance with the principles as set
forth under the Capital Market Board's Communique on Material Event Disclosures, that it fully
reflects the information available to us in this respect, that the information provided herein is in
compliance with the respective books, records and documents, that we made all efforts to get all
the information in this respect in a complete and accurate manner, and that we are responsible
for the disclosure provided above.