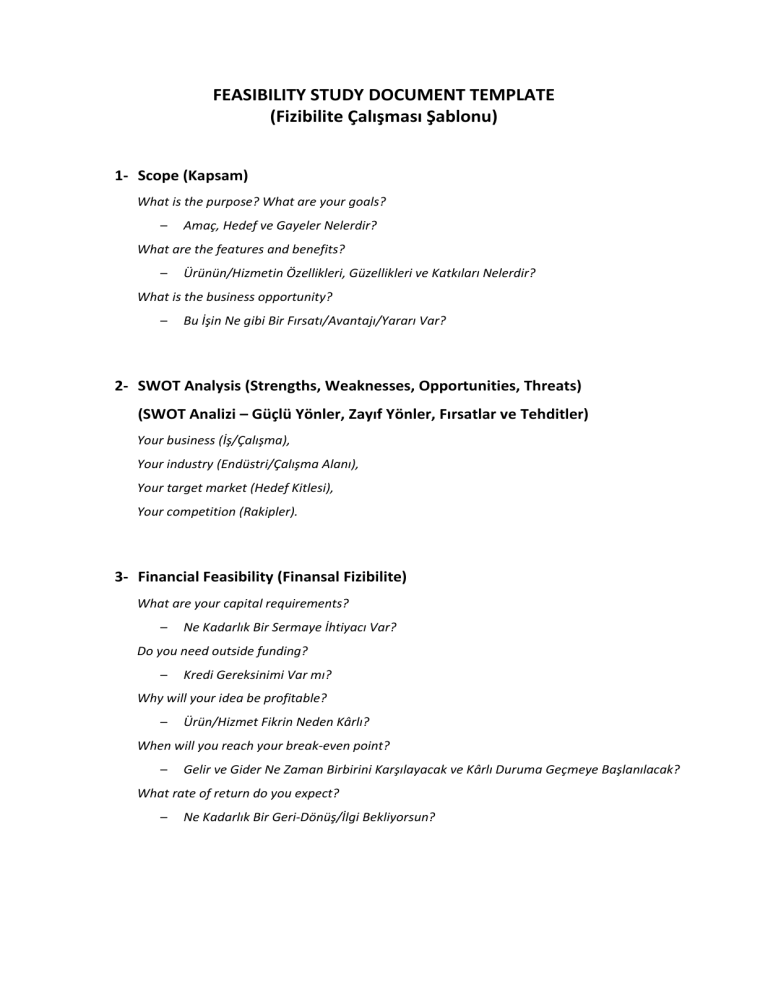 FEASIBILITY STUDY DOCUMENT TEMPLATE
(Fizibilite Çalışması Şablonu)
1- Scope (Kapsam)
What is the purpose? What are your goals?
–
Amaç, Hedef ve Gayeler Nelerdir?
What are the features and benefits?
–
Ürünün/Hizmetin Özellikleri, Güzellikleri ve Katkıları Nelerdir?
What is the business opportunity?
–
Bu İşin Ne gibi Bir Fırsatı/Avantajı/Yararı Var?
2- SWOT Analysis (Strengths, Weaknesses, Opportunities, Threats)
(SWOT Analizi – Güçlü Yönler, Zayıf Yönler, Fırsatlar ve Tehditler)
Your business (İş/Çalışma),
Your industry (Endüstri/Çalışma Alanı),
Your target market (Hedef Kitlesi),
Your competition (Rakipler).
3- Financial Feasibility (Finansal Fizibilite)
What are your capital requirements?
–
Ne Kadarlık Bir Sermaye İhtiyacı Var?
Do you need outside funding?
–
Kredi Gereksinimi Var mı?
Why will your idea be profitable?
–
Ürün/Hizmet Fikrin Neden Kârlı?
When will you reach your break-even point?
–
Gelir ve Gider Ne Zaman Birbirini Karşılayacak ve Kârlı Duruma Geçmeye Başlanılacak?
What rate of return do you expect?
–
Ne Kadarlık Bir Geri-Dönüş/İlgi Bekliyorsun?
4- Feasibility of Sales Volume (Satış Hacmi Fizibilitesi)
How, when and where will you generate revenue?
–
Nerede, Ne Zaman, Nasıl ve Ne Şekilde Bir Gelir/Hasılat Bekliyorsun?
How much will it generate?
–
Ne Kadarlık Bir Satış ve Kazanç Olacağını Düşünüyorsun?
Why are these projections realistic?
–
Peki Bu Öngörüler/Tahminler Ne Kadar Gerçekçi ve Sağlam Bir Temele Dayanıyor?