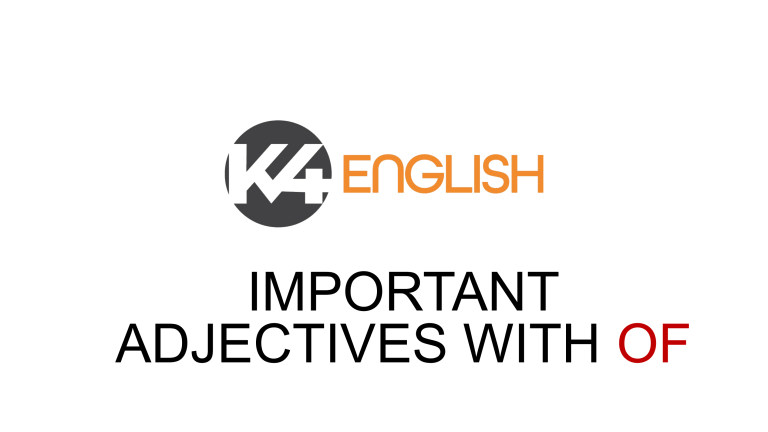 IMPORTANT
ADJECTIVES WITH OF
ADJECTIVES + OF
[in] capable of
doing sth
[in] competent to
do sth
yapabilir - yapabilme yetenegine sahip
I'm incapable of telling lies.
ADJECTIVES + OF
ashamed of
sth / sb
embarrased
about / by
mahçup - utanmış
Dario was ashamed of what he had
said.
ADJECTIVES + OF
[un] aware
of
[un] conscious
of
farkinda
The police are well aware of the
dangers.
ADJECTIVES + OF
convinced
of
• sure
• certain
of / about
emin - ikna olmus
I'm convinced of her innocence.
ADJECTIVES + OF
devoid of
lack of
yoksun
My boss is totally devoid of common
sense.
ADJECTIVES + OF
afraid of
frightened of
scared of
terrified of
korkmus – dehsete dusmus
My brother is pretty terrified of
spiders.
ADJECTIVES + OF
guilty of
responsible for
- den suclu
Her husband wasn't found guilty of
the murder.
ADJECTIVES + OF
sick of
tired of
bıkmış - usanmış
We're tired of watching the same things
on TV.
I'm sick and tired of studying for exams.
ADJECTIVES + OF
jealous of
green with envy
kıskanç
They were jealous of my new car.
ADJECTIVES + OF
fond of
keen on
düşkün - müptela
My son's teacher seems really fond of
the children.
ADJECTIVES + OF
full of
abundant
ile dolu
The busses in Istanbul are always full of
people in the rush hour.
ADJECTIVES + OF
short of
not enough
yetersiz
I'm a little short of cash. Can you lend me
$50?
ADJECTIVES + OF
suspicious of
skeptical doubtful
şüpheci - kuşkulu
Parliament was deeply suspicious of the
King's intentions.
IMPORTANT ADJECTIVES
WITH FOR
ADJECTIVES + FOR
appropriate for
suitable, proper
uygun - elverişli
clothes appropriate for a job interview
ADJECTIVES + FOR
difficult for
demanding,
challenging
zor - zorlayıcı
…makes life difficult for disabled people.
ADJECTIVES + FOR
eligible for
appropriate,
suitable
hak sahibi - nitelikli
If you're a full-time student, you're eligible
for a transportation discount.
ADJECTIVES + FOR
famous for
well-known,
renowned, noted
meşhur - ünlü
famous for Anıtkabir
ADJECTIVES + FOR
notorious for
infamous
adı kötüye çıkmış – kötü şöhretli
notorious for his brutality
ADJECTIVES + FOR
eager for
hungry
istekli
eager for success
ADJECTIVES + FOR
essential for
necessary
önemli - gerekli
essential for grammar
IMPORTANT ADJECTIVES
WITH TO
ADJECTIVES + TO
accustomed to
familiar
-e alışık, alışkın
I am accustomed to getting up early
for school.
ADJECTIVES + TO
addicted to
dependent
müptela - tutkun
Many people are addicted to smoking.
ADJECTIVES + TO
apparent to
obvious - evident
aşikar, görünür
Tom's happiness is apparent to
everyone.
ADJECTIVES + TO
committed to
dedicated
kendini adamış
Students who are committed to
protecting the environment
ADJECTIVES + TO
connected to
linked - related
bağlı, ilişki
Printer must be connected to the
computer.
ADJECTIVES + TO
dedicated to
devoted - committed
adamış, atfetmiş
People who are dedicated to saving
endangered animals
ADJECTIVES + TO
equal to
equivalent to
eşit
A new mobile phone is equal to half my
monthly income.
ADJECTIVES + TO
exposed to
not protected
maruz kalmış
Kids are exposed to violence on TV.
ADJECTIVES + TO
identical to
the same
aynısı
Her dress is identical to mine.
ADJECTIVES + TO
superior to
better
daha üstün
Your new tablet is far superior to mine.
ADJECTIVES + TO
limited to
confined
ile sınırlı
My experience is limited to jobs in
Europe.
ADJECTIVES + TO
relevant to
related / pertinent
ilgili, alakalı
Your opinions are interesting but not
relevant to our current discussion.
ADJECTIVES + TO
susceptible to
vulnerable
kırılgan, savunmasız
Older people are more susceptible to
infections
ADJECTIVES + TO
reluctant to
unwilling
isteksiz, gönülsüz
reluctant to help
ADJECTIVES + TO
apt to
tend / prone
eğilimli, meyilli
a student apt to be late
ADJECTIVES + TO
against
opposed to
karşı
I am opposed to copying from books.
IMPORTANT ADJECTIVES
WITH ABOUT
ADJECTIVES + ABOUT
angry about
annoyed - furious
sinirli
Frank was really angry about the damage
to his car.
ADJECTIVES + ABOUT
worried
anxious about
gergin
I am anxious about going to my job
interview tomorrow morning.
ADJECTIVES + ABOUT
certain of, about
sure
emin
I've known him for many years and am
certain of his innocence.
ADJECTIVES + ABOUT
concerned about
worried
endişeli, kaygılı
My mother has been feeling sick, and I
am concerned about her welfare.
ADJECTIVES + ABOUT
confused about
puzzled - perplexed
kafası karışık
The students are confused about what to
do for the next assignment.
ADJECTIVES + ABOUT
discouraged about
crestfallen - deterred
cesareti kırılmış, motivasyonu düşmüş
He felt very discouraged about failing the
final exam.
ADJECTIVES + ABOUT
enthusiastic about
keen - eager
istekli olmak, hevesli olmak
He just got golf clubs and is enthusiastic
about learning how to play.
ADJECTIVES + ABOUT
thrilled
excited about
heyecanlı
The employees were really excited about the
upcoming long weekend.
ADJECTIVES + ABOUT
lazy about
idle
tembel, üşengeç
I am lazy about doing my homework.
ADJECTIVES + ABOUT
anxious
nervous about
gergin
I am nervous about my driving test tomorrow.
ADJECTIVES + ABOUT
sad about
upset - unhappy
üzgün
I'm sad about your loss.
ADJECTIVES + ABOUT
understanding
about / of
compassionate
anlayışlı
The teachers is very understanding about the
students test anxiety.
ADJECTIVES + ABOUT
upset about/over
sad
üzgün
They are upset about the exam results.
ADJECTIVES + ABOUT
worried about
concerned - anxious
Endişeli, kaygılı
She is worried about her brother who has
been very ill recently.
IMPORTANT ADJECTIVES WITH
WITH
ADJECTIVES + WITH
acquainted with
familiar
tanıdık, aşina
Although she just moved in, she is already
acquainted with her neighbour.
ADJECTIVES + WITH
furious
angry at, with
kızgın
My friend was angry at / with me because I
damaged his car.
ADJECTIVES + WITH
annoyed with
angry - furious
sinirli
He was annoyed with me because the repair
bill for the car was high.
ADJECTIVES + WITH
bored by, with
fed up - uninterested
sıkılmış
I am bored by/with all the long political
speeches on television these days.
ADJECTIVES + WITH
disappointed with
frustrated - discouraged
Hayal kırıklığına uğramış
Although she studied, she was disappointed
with her results on the test.
ADJECTIVES + WITH
disgusted by, with
repulsed - offended
iğrenmiş
She was disgusted by the bad language
used by the other driver.
ADJECTIVES + WITH
equipped with
supplied - furnished
donanımlı
Now that I have graduated, I am equipped
with the skills to get a job.
ADJECTIVES + WITH
familiar with
accustomed
aşina, tanıdık
I am not familiar with that movie. Please, tell
me more about it!