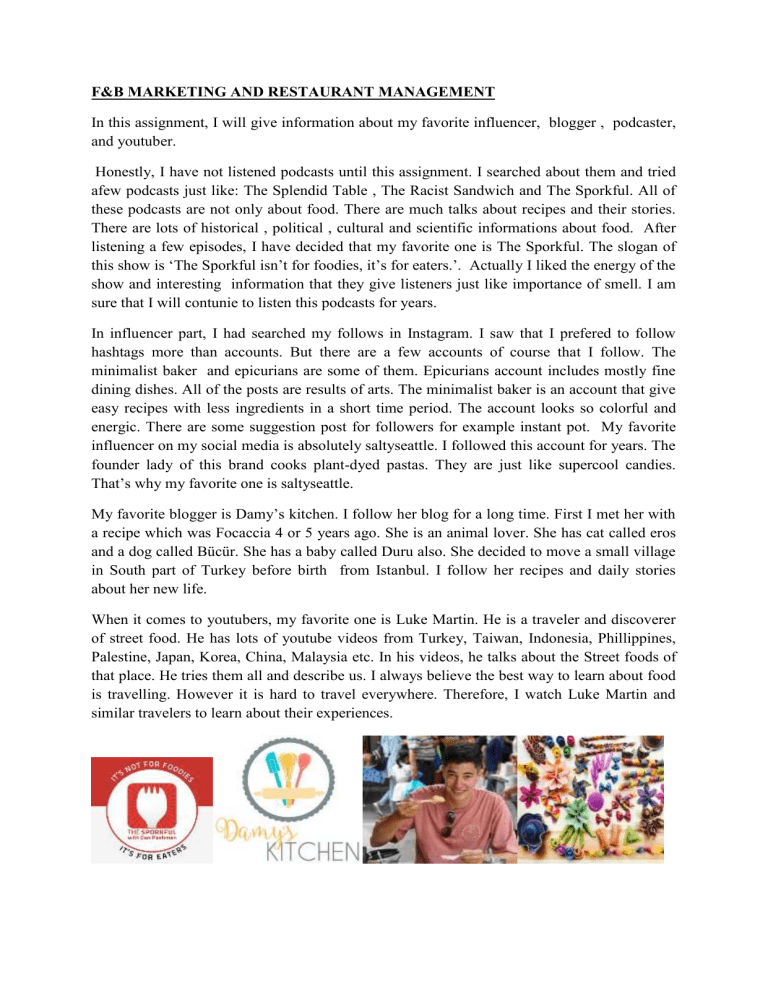 F&B MARKETING AND RESTAURANT MANAGEMENT
In this assignment, I will give information about my favorite influencer, blogger , podcaster,
and youtuber.
Honestly, I have not listened podcasts until this assignment. I searched about them and tried
afew podcasts just like: The Splendid Table , The Racist Sandwich and The Sporkful. All of
these podcasts are not only about food. There are much talks about recipes and their stories.
There are lots of historical , political , cultural and scientific informations about food. After
listening a few episodes, I have decided that my favorite one is The Sporkful. The slogan of
this show is 'The Sporkful isn't for foodies, it's for eaters.'. Actually I liked the energy of the
show and interesting information that they give listeners just like importance of smell. I am
sure that I will contunie to listen this podcasts for years.
In influencer part, I had searched my follows in Instagram. I saw that I prefered to follow
hashtags more than accounts. But there are a few accounts of course that I follow. The
minimalist baker and epicurians are some of them. Epicurians account includes mostly fine
dining dishes. All of the posts are results of arts. The minimalist baker is an account that give
easy recipes with less ingredients in a short time period. The account looks so colorful and
energic. There are some suggestion post for followers for example instant pot. My favorite
influencer on my social media is absolutely saltyseattle. I followed this account for years. The
founder lady of this brand cooks plant-dyed pastas. They are just like supercool candies.
That's why my favorite one is saltyseattle.
My favorite blogger is Damy's kitchen. I follow her blog for a long time. First I met her with
a recipe which was Focaccia 4 or 5 years ago. She is an animal lover. She has cat called eros
and a dog called Bücür. She has a baby called Duru also. She decided to move a small village
in South part of Turkey before birth from Istanbul. I follow her recipes and daily stories
about her new life.
When it comes to youtubers, my favorite one is Luke Martin. He is a traveler and discoverer
of street food. He has lots of youtube videos from Turkey, Taiwan, Indonesia, Phillippines,
Palestine, Japan, Korea, China, Malaysia etc. In his videos, he talks about the Street foods of
that place. He tries them all and describe us. I always believe the best way to learn about food
is travelling. However it is hard to travel everywhere. Therefore, I watch Luke Martin and
similar travelers to learn about their experiences.