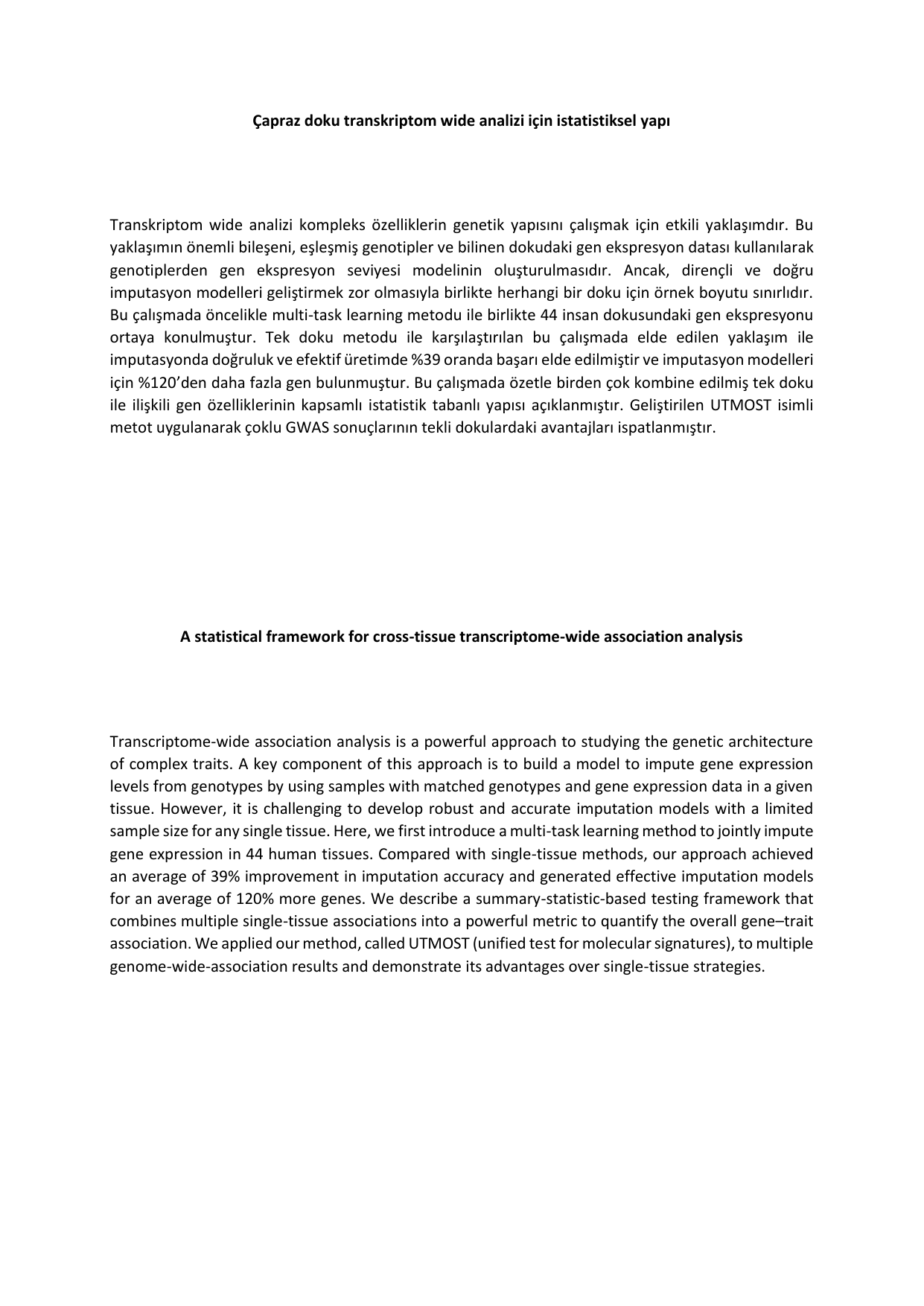 Çapraz doku transkriptom wide analizi için istatistiksel yapı
Transkriptom wide analizi kompleks özelliklerin genetik yapısını çalışmak için etkili yaklaşımdır. Bu
yaklaşımın önemli bileşeni, eşleşmiş genotipler ve bilinen dokudaki gen ekspresyon datası kullanılarak
genotiplerden gen ekspresyon seviyesi modelinin oluşturulmasıdır. Ancak, dirençli ve doğru
imputasyon modelleri geliştirmek zor olmasıyla birlikte herhangi bir doku için örnek boyutu sınırlıdır.
Bu çalışmada öncelikle multi-task learning metodu ile birlikte 44 insan dokusundaki gen ekspresyonu
ortaya konulmuştur. Tek doku metodu ile karşılaştırılan bu çalışmada elde edilen yaklaşım ile
imputasyonda doğruluk ve efektif üretimde %39 oranda başarı elde edilmiştir ve imputasyon modelleri
için %120'den daha fazla gen bulunmuştur. Bu çalışmada özetle birden çok kombine edilmiş tek doku
ile ilişkili gen özelliklerinin kapsamlı istatistik tabanlı yapısı açıklanmıştır. Geliştirilen UTMOST isimli
metot uygulanarak çoklu GWAS sonuçlarının tekli dokulardaki avantajları ispatlanmıştır.
A statistical framework for cross-tissue transcriptome-wide association analysis
Transcriptome-wide association analysis is a powerful approach to studying the genetic architecture
of complex traits. A key component of this approach is to build a model to impute gene expression
levels from genotypes by using samples with matched genotypes and gene expression data in a given
tissue. However, it is challenging to develop robust and accurate imputation models with a limited
sample size for any single tissue. Here, we first introduce a multi-task learning method to jointly impute
gene expression in 44 human tissues. Compared with single-tissue methods, our approach achieved
an average of 39% improvement in imputation accuracy and generated effective imputation models
for an average of 120% more genes. We describe a summary-statistic-based testing framework that
combines multiple single-tissue associations into a powerful metric to quantify the overall gene–trait
association. We applied our method, called UTMOST (unified test for molecular signatures), to multiple
genome-wide-association results and demonstrate its advantages over single-tissue strategies.