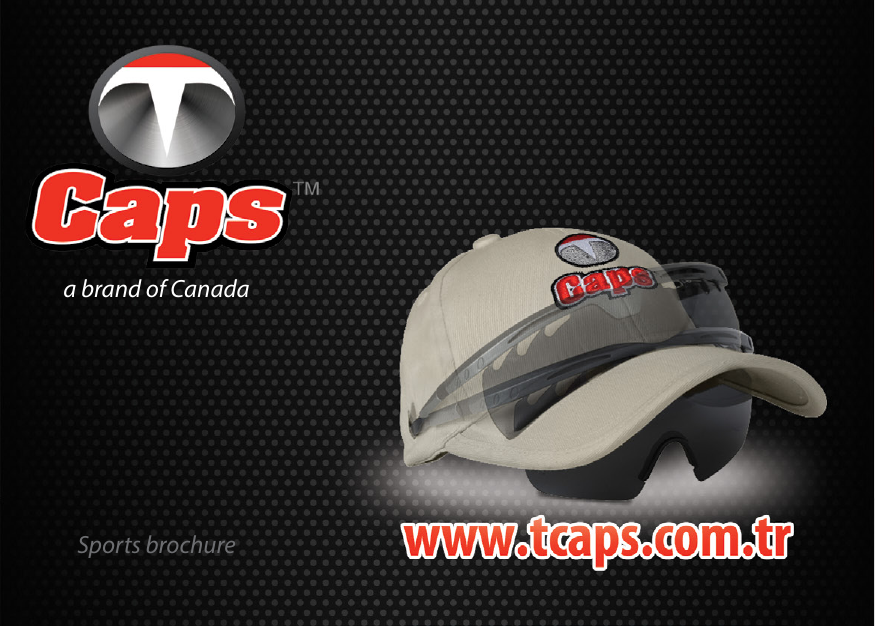 a brand of Canada
Sports brochure
Yıllar süren teknolojik araştırmalar
sonrasında üretilen T Caps, bir Kanada
markası olarak yenilikçi, eşsiz ve tescilli
tasarımı ile özel güneş gözlüğü ve kepin
kombinasyonudur.
Many years of research have been
devoted to the development of T Caps.
Canadian branded T Caps'
innovative proprietary design includes
custom designed sunglasses and cap.
T Caps' sunglasses slide through a slit in the
peak when needed and back up when not!
T Caps is simply unique and practical.
Güneş gözlüğü kepin siperliğinde bulunan
bir kanal içinde aşağı ve yukarı hareketle
pratik kullanım sağlar.
T Caps'in hafif, sağlam gözlük çerçevesi
ve çizilmeye karşı dayanıklı,
%100 UV koruma sağlayan yüksek kaliteli
polikarbonat lensleri gözlerinizi
maksimum derecede korur.
T Caps offers 100% UV protection with
its light and durable frames and
scratch resistant, high quality
polycarbonate lenses. T Caps' design
provides maximum protection.
You do not have to worry about losing,
forgetting or damaging your
sunglasses. T Caps allows you to stay
focused on your activity.
Enjoy the comfort
of T Caps!
T Caps güneş gözlüğünün kaybolması
ve düşürülmesi gibi olasılıkları ortadan
kaldırır. Her türlü aktivite sırasında size
büyük konfor sağlar.
Teknolojik araştırmalar ve
3D tasarımlar sonrasında üretilen
T Caps, ayarlanabilir yapısı sayesinde
birçok yüz şekli ile tam uyum
göstermektedir.
High technology along with numerous
3D designs were used to find the proper
frame and lens angles so that the
sunglasses could adapt to different
contours of human face.
Sliding and rotating temples allow to
position the sunglasses closer or away from
your face for that perfect fit. Thanks to this
system, T Caps does not touch your nose
or face and furthermore can be used over
most prescription glasses.
Yukarı-aşağı hareketli eklemleri ve
lenslere ileri-geri hareket sağlayan
teleskopik sistemi ile gözlüğün yüzle olan
mesafesi ayarlanabilir. Bu sistem sayesinde
T Caps buruna ve yüze temas etmez; ayrıca
numaralı gözlük ile birlikte kullanılabilir.
Patented
EYO Dış Ticaret Ltd. Şti. is the Exclusive Worldwide Distributor of T Caps™ except for Canada and USA.
EYO DIŞ TİCARET LTD. ŞTİ.
T. +90 216 491 4EYO (396)
facebook.com/tcapstr
İstanbul Park Bulvarı No: 17 JK
F. +90 216 483 7EYO (396)
twitter.com/tcapstr
Tepeören 34959 Tuzla, İstanbul / Türkiye
[email protected] | www.tcaps.com.tr
EYO Dış Ticaret Ltd. Şti. T Caps™ 'in Kanada ve ABD dışında tüm Dünya tek yetkili distribütörüdür.